En este artículo vamos a fijarnos en la configuración de una VPN para conectarnos remotamente a nuestro trabajo si disponemos de un Firewall Fortigate.
¿Qué és una VPN?
Una VPN (Virtual Private Network) és una connexión privada y a la vez encryptada que se realiza a través de Internet, para crear una connexión o red privada dentro la la red pública que és Internet.
Normalmente las connexiones VPN pueden ser:
Site to Site: Connexión entre distintas sedes de la empresa.
Site to Client: Connexiones privadas desde ordenadores, móbiles y tablets hacia nuestra empresa.
En este artículo vamos a fijarnos en las connexiones de cliente.
Imaginemos pues que trabajamos en una empresa y queremos conectarnos de forma remota y segura. Para hacerlo, utilizaremos un pequeño software que realizará dicha connexión. Una vez connectados a nuestra empresa y dependiendo de la configuración de la VPN tendremos acceso a toda nuestra empresa o a ciertos recursos (Servidores, segmentos de red,…)
¿Qué tipo de VPN Cliente existen?
A continuación vamos a ver qué tipos de VPN Cliente existen. Basicamente existen 2 tipos de connexiones VPN Cliente:
Estas conexiones utilizan el protocolo IPSec, estas conexiones son las más comunes y pueden configurarse en la mayoría de routers y firewalls que tienen funciones de VPN. El único inconveniente és que utilizan puertos UDP (4500 y 500), con lo que si estamos en un hotel o conectados a alguna red con restricciones, no podremos conectar.
Éstas connexiones, utilizan el puerto 443 con lo que no tendremos las restricciones de connexiones wifi, ya que se utiliza el puerto de navegación https estandard.
How to configure an SSLVPN in Fortigate?
Before we start configuring the SSLVPN, we have to make sure that we have port 443 redirected to the IP of our Firewall that connects to the Internet router.
Once we have our Fortigate configured to navigate, we will have to follow the following steps to enable the SSLVPN connection from anywhere outside our office:
User Configuration

Go to User & Device Menu -> User Definition menu and add a new user

Configure SSLVPN Portal

Access the VPN menu -> SSL-VPN Portals and add a new portal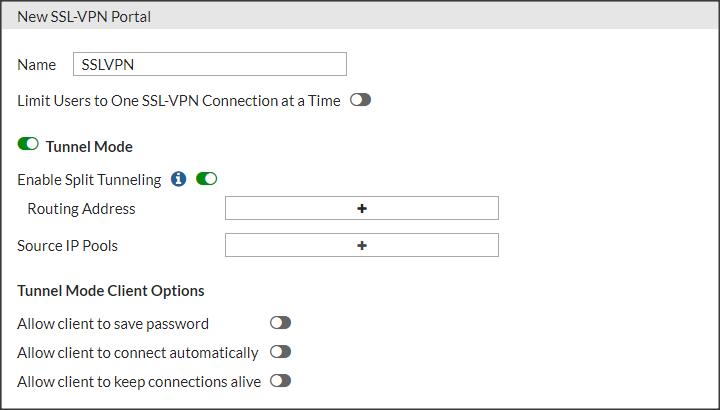 We will only fill in the following fields
In Routing Address we will put the range or equipment to which we want to have access.
In Source IP Pools we will leave the default range that Fortigate carries, this is SSLVPN_TUNNEL_ADDR1. It is the IP that will have the VPN interface of our computer once we connect by VPN.
Next we access the VPN-> SSL-VPN Settings menu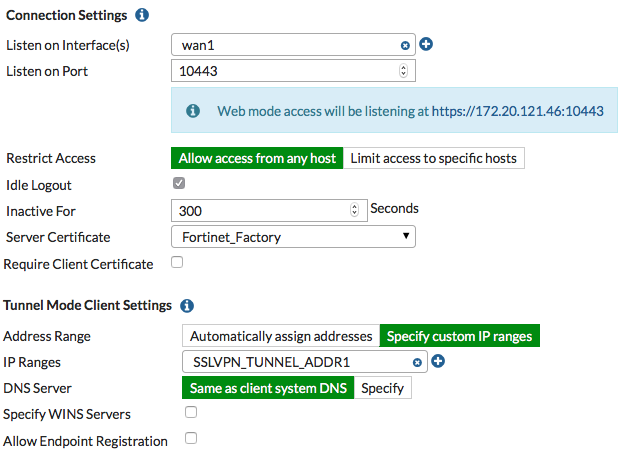 We choose the internet interface that we have configured.
In the port we will put port 443 (to avoid blockages of public Wi-Fi connections)
Finally we will map our user, with the portal that we have created

Configure firewall policy to allow the connection from the SSLVPN to our local network.

Next we have to go to the Policy & Objects menu -> IPv4 Policy
We will add a policy to allow entry from the SSLVPN interface with the SSLVPN_TUNNEL_ADDR1 range up to our range that we have enabled in the SSLVPN portal configuration. (Routing Address), for the specified user.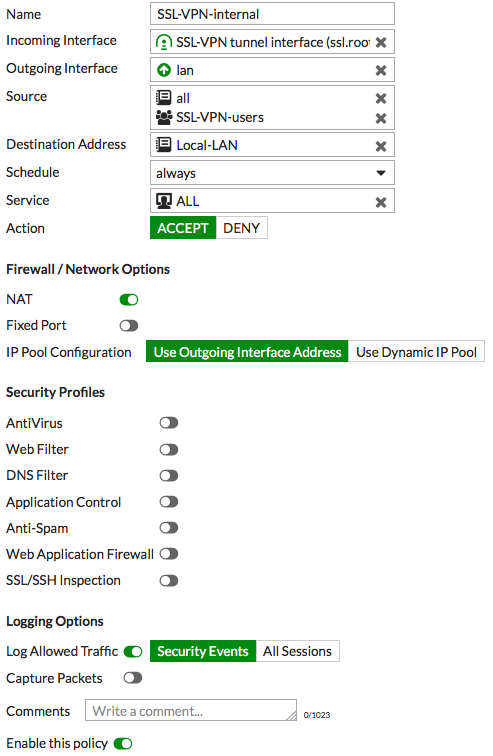 Finally we only have to configure the Forticlient client to make the SSLVPN connection.
From now on you can enjoy completely secure connections to your company with the peace of mind that no one can capture and above all analyze the traffic, since it is encrypted.
The information in this article has been extracted from the official page of Fortinet, you can find the information in this link.
You can view more articles related to communication networks through this link.
See you on the networks!